Salt collecting machine can harvest the raw salt in the crystallization pond. Usually, it works with salt transport equipment, such as salt transport trucks, belt units, light rail locomotives, etc. The salt harvester scoops up, lifts, and throws the raw salt onto the salt conveying equipment while walking in the crystallization tank.
Details information of small salt harvester order
Our client is from Kenya. The customer left his contact details by browsing our salt harvester website. And through communication, we recommended a small salt collector to him. The output of this salt harvester is 50t/h, which meets the customer's daily salt harvesting needs. And during our communication, our sales manager has provided timely and professional answers to every question from our customers. The customer satisfaction with us and finally decides to buy a salt harvester.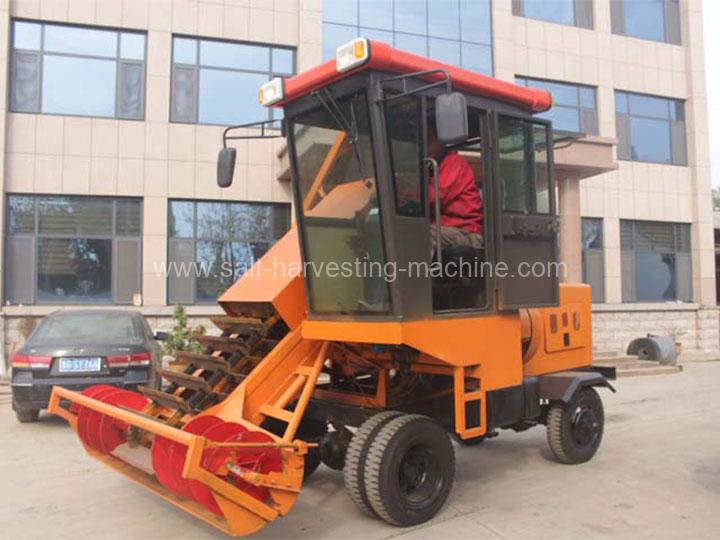 Features of the salt collecting machine
1. The salt collecting machine is an important technological innovation. The emergence of this machine saves two-thirds of the labor force. So, it greatly improves the production efficiency of salt mining. And at the same time reduces the labor intensity of workers.
2. Apart from that, rain and seasons will not affect salt pickers. Breaking the traditional spring and autumn salt industry model. So the salt industry can also work in summer. Raw salt sales can be arranged more scientifically and rationally.
3. The salt collecting machine also greatly improves the utilization rate of evaporation, so that the salt field can grow normally and the salt content is greatly increased.
4. The equipment is suitable for the live salt process. It can be used with water pipes for salt collection, slag discharge, traction, and other operations.
5. The salt harvester runs on the rubber track and moves with the track. The advantage is that it can drive the salt harvester without damaging the pool deck.
6. The salt collecting machine also adopts hydraulic transmission, power shifting, standardization of parts, and a high degree of generalization, which makes the operation of the salt collector more convenient. The salt harvester can complete salt mining, traction, and other operations on the machine, and the utilization rate is high.