Our salt field processing equipment has always been well received by customers, which is also a huge driving force for us to continuously improve manufacturing technology and research and develop new salt harvesters.
Recently, our commercial salt harvesters, salt trucks, salt pan press machines, and refined salt processing equipment have been continuously exported to many countries, such as Uganda, Chile, Japan, Ghana, Kenya, etc.
Sea salt crushing and collecting machines were shipped to Malaysia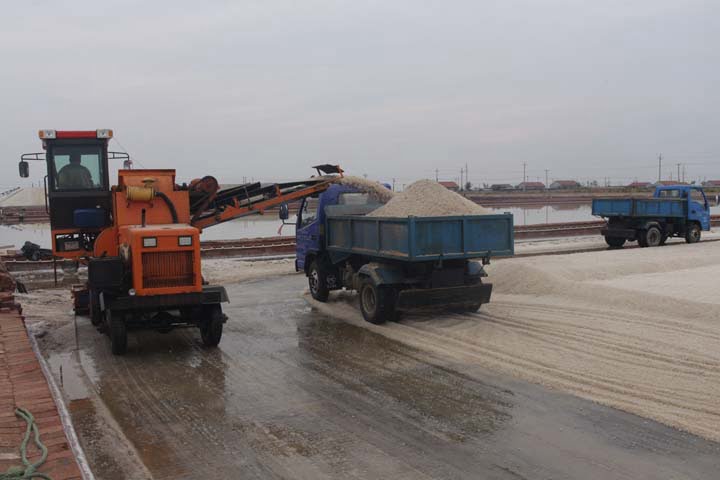 Before the sea salt harvest season, many customers started to order and update their salt collection equipment. A customer from Malaysia ordered a full set of salt collectors and supporting equipment from us.
After consulting the salt harvester in Malaysia, our sales manager confirmed the depth of the salt pond and the hardness of the salt field with the customer at the first time, and initially determined that the customer should need a salt harvester with a crushing function, and then gave it to the customer. A quotation for the corresponding model of the salt collection machine was sent.
After receiving the quotation, the customer indicated that the quotation we gave was slightly higher than that of other salt collection machine manufacturers, and hoped that we could lower the price. Our sales manager thinks he has given the average market price of the salt collector.
In order to further confirm the needs of customers, we asked customers to send their own videos and pictures of the sea salt field and finally confirmed that what customers need is a salt harvester with a crushing function. The quotation from other manufacturers to the customer does not include the crushing function.
The Malaysian customer is very satisfied with our serious service attitude. Finally, we ordered a salt collector and a salt transport truck from our salt collector factory.