The sea salt collecting machine is suitable for the live slag salt process. The machine work with a water conservancy pipeline for salt collection operations as well as live slag and hauling operation. The salt harvesting machine is applicable to a wide range of scopes.
The salt harvesting machine uses rubber tracks to travel. The advantage of using tracks to travel is that it allows the salt collector to travel without damaging the pool board. It can also be used in other industries for low-speed traction, lifting weights, and other work. In addition to this, the machine can also work separately with its reducer as a variable speed mechanism for some equipment with a large transmission ratio.
Sea salt collecting machine USA customer ordered
The customer sent us an inquiry directly from reading our salt collector website. Our sales manager contacted the customer via WhatsApp. During the communication process, the customer was more concerned about the parameters of the machine. So our manager sent the detailed parameters of the machine directly to the customer.
After that, the customer said that he would discuss the salt harvesting machine with his engineer. And a few days later, he asked us for a quotation. After determining the destination port, we provided a quotation. After reading it, the customer said he would order a single salt collector.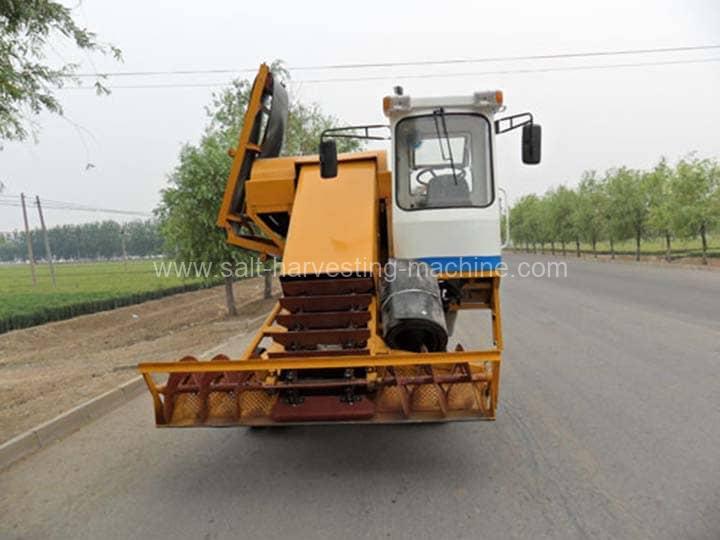 What are the customer's concerns about the salt harvesting machine?
Yes, Alysa, Good day to you! I am looking forward to the salt harvester's technical parameter.
Ok, friend, I send you the parameter now.
What is the height of the Arm of the Harvester?
Do you mean the convey belt? The height is 2.4m, 3m also is available, this is adjustable
What's the salt machine price for delivery to ***?
As the price of the machine is affected by the exchange rate, the type of machine, and the different destinations. Our sales manager will calculate the price of each machine according to the customer's specific situation.
Technical parameter of the salt collector
| | |
| --- | --- |
| Model | SL-2000 |
| Capacity | 300-400 t/h |
| Power | 44 hp |
| Working width | 2000 mm |
| The Range of salt thickness | 2-20 cm |
| Wheel space | 1575 mm |
| Weight | 4000kg |
| Dimension | 5000x2130x2900mm |
salt collector's parameter
What machine do salt collecting machines usually work with?
Usually, the salt collector works together with a salt truck. When the salt harvester is working, the salt truck will move at the same speed on the side of the salt harvesting machine. The salt collector picks up, lifts, and throws the raw salt to the salt transfer equipment as it travels through the crystallization pond. The salt truck minimizes the damage to the pond plate. At the same time, unlike ordinary vehicles, this vehicle has good maneuverability.